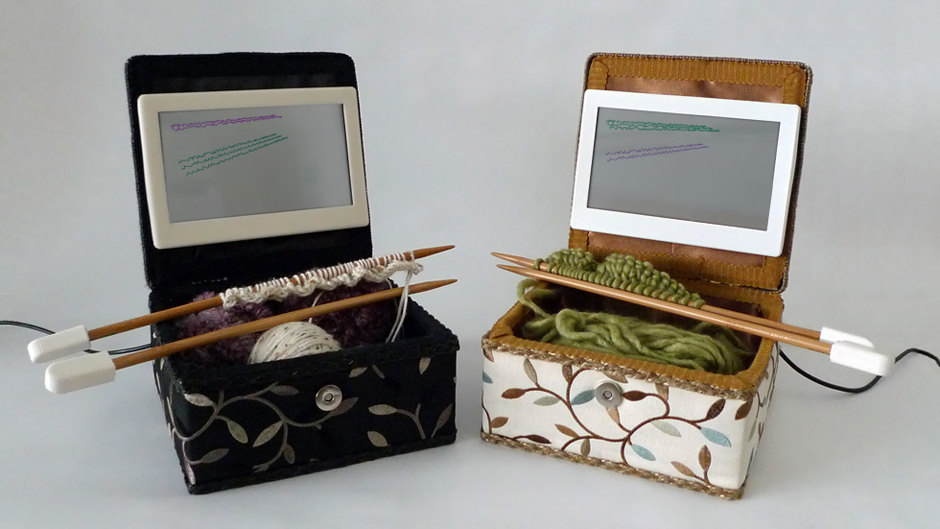 The Movement Crafter attempts to reconcile the pace of new technologies with traditional crafting activities that are performed as pastimes. The project explores concepts of quiet communication and technology hybrids and attempts to support crafting without making the craftsperson overly self-conscious of their practice. Designed with Richard Banks, crafted with Mike Molloy at Microsoft Research Cambridge.
The movement crafter consists of a pair of knitting needles enhanced with motion sensors, and a dedicated screen embedded into a sewing box. The needles map the activity of the craftsperson and transmit the data to the box via radio frequency. This data is saved on a database and is then translated into a thread visualization. The visualisation presents a complementary output for the knitting activity. Each stitch extends the path of the thread in a continuously growing mesh. The aim is not to increase awareness in order to stimulate people to craft more, or to improve their performance. Instead, it aims to reward the time spent doing it. Differently from a number of slow technology projects, it does not aim to support reflection as both awareness and reflection would disrupt the slow aspect of knitting.
The thread visualization resulting from the activity of one crafter can be merged with the visualization of other remote ones. The combination of threads provides a different sort of communication, one that is quiet and open ended, and which contrasts with current always-on media. The screen is meant to remain in the background, being accessed only once in a while, to provide a moment of wonderment, a feeling of accomplishment, and the comfort that other people are performing the same slow task.
---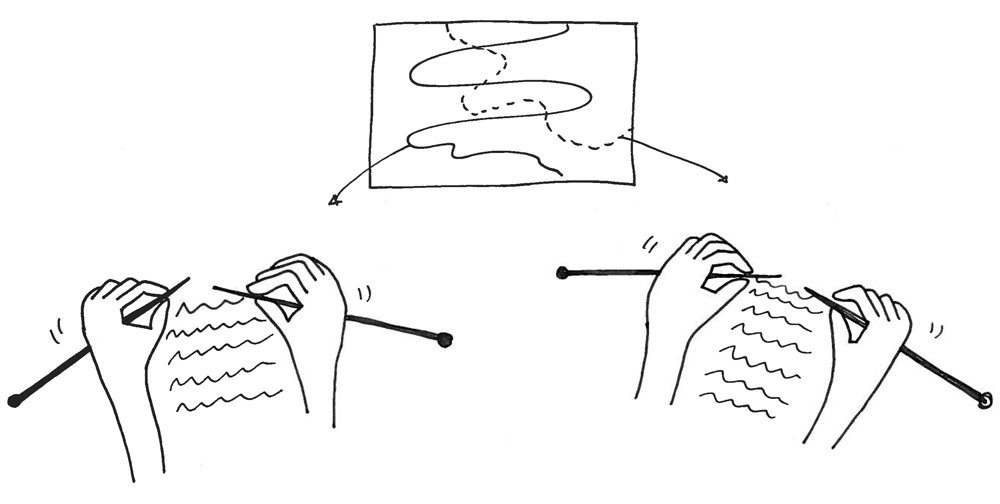 Key slow technology concepts
Quiet communication
Mixing slow activity (knitting) and fast material (data gathering).
Supporting experience of being "in the flow". Contrary to the main trend of slow technology principles, which focuses on "reflectivity", this aspect requires some level of irreflectivity.
Speeding up artifacts
Almost three decades ago, Mcluhan [5] asserted that man-made artifacts inevitably enhance or accelerate a certain process or thing while obsolesce others. Hand operated machines enhanced manual knitting, which was further enhanced by large-scale factory machinery. As artifacts lose their productive relevance, however, they often gain new roles. Some become simple mementos [6], while others continue to be used as a way to re-experience the process they enabled in a different, slower, tempo [7]. The act of writing letters is one example of this search for a slower pace. Although most personal communication can nowadays be carried out via e-mail, traditional letters are still exchanged as a way to express commitment and care [3]. As we continue to adopt ever-new technologies, together with an overall speeding up of our lives, we also start to feel the need to slow down, and with this, the need to recover forgotten practices [8].
The movement crafter aims to support traditional turned-slow activities without replacing them or speeding them up. It attempts to avoid drawing attention to the need of crafting and to respect the status of this activity as an occasional hobby, to which individuals would turn when they feel an urge to slow down. The project is part of a movement towards questioning the traditional technological focus on productivity [4], especially as technology spreads from workspaces to homes and contexts where being productive is not necessarily desired [1].
References
[1] Bødker, S. (2006). When second wave HCI meets third wave challenges. In Proceedings of NordiCHI'06. ACM, NY, USA, 1-8.
[2] Hallnäs, L., & Redström, J. (2001). Slow technology–designing for reflection. Personal and Ubiquitous Computing, 5(3), 201-212.
[3] Jolly, M. (2011). Lamenting the Letter and the Truth about Email. Life Writing, 8(2), 153-167.
[4] Leshed, G., & Sengers, P. (2011, May). I lie to myself that I have freedom in my own schedule. In Proceedings of CHI '11. ACM, NY, USA, 905-914.
[5] McLuhan, M., & McLuhan, E. 1988. Laws of media: The new science.
[6] Petrelli, D. et al. 2008. AutoTopography: what can physical mementos tell us about digital memories?. In Proceedings of CHI '08. ACM, NY, USA, 53-62.
[7] Rosner, D. K., 2012. Slow Technology as Analytical Lens. DIS 2012, Slow Technology Workshop.
[8] Sengers, P. (2011). What I learned on Change Islands: reflections on IT and pace of life. Interactions, 18(2), 40-48.